Scroll to explore
Blog
A Once-in-a-Lifetime Experience for a 94-Year-Old Coventry City Football Club Superfan
Age is Just a Number
In the heart of the charming English city of Coventry, a heartwarming story unfolded as 94-year-old Mac M. Muckley, a devoted supporter of Coventry City Football Club, received an extraordinary opportunity. Despite the passing years and challenges that come with age, Mac's dedication to his beloved football team remained unwavering. Thanks to the benevolence of XL Motors, a sponsor of the club, and the thoughtful efforts of Marie Edmunds, the Wellbeing Navigator at Austin Heath Retirement Village, Mac's dream came true, allowing him to witness a match of a lifetime.
A Lifelong Devotion to Coventry City
Since his first visit to Coventry City's stadium in 1936, when he was just a nine-year-old boy, Mac has been a steadfast and devoted fan of the football club. He fondly remembers witnessing their triumph over Torquay United, an experience that ignited a lifelong passion for the team. Throughout the years, Mac's love for Coventry City only grew stronger, making him a true symbol of loyalty and dedication.
The Kindness of XL Motors and Marie Edmunds
As time passed, Mac's mobility began to pose challenges, and attending matches became increasingly difficult. It was then that the kind-hearted efforts of XL Motors and Marie Edmunds came to the fore. XL Motors, a proud sponsor of Coventry City, extended an invitation to Mac to join their esteemed guests in the Platinum Hospitality Suite for the highly-anticipated match against Hull City.
Marie Edmunds, the Wellbeing Navigator at Austin Heath Retirement Village, played an essential role in ensuring that Mac's day would be nothing short of magical. She arranged for a silver service lunch at the Platinum Hospitality Suite, providing Mac with an experience fit for a true football aficionado. As the day unfolded, it became evident that Mac's cherished memories of the past would merge seamlessly with the present.
A Day of Celebrations
The match day began with a heartwarming touch as a former Coventry City footballer, acting as the Master of Ceremonies, introduced Mac as the oldest supporter present that day. His presence captivated the attention of fellow supporters and their families, who were eager to listen to his first-hand accounts of life in Coventry during the 1930s and 1940s. The warmth and camaraderie in the Platinum Hospitality Suite echoed the spirit of community that Coventry City Football Club has fostered throughout the years.
The Match Experience
As the game kicked off, Mac enjoyed a prime view of the pitch from his reserved seats just outside the hospitality suite. Although the match ended in a 1-1 draw, the final result did not dampen Mac's spirits. After the final whistle, he had the privilege of meeting various dignitaries, including the chairman and owner of the club. Additionally, he had the honour of personally congratulating Gustavo Hamer, the man of the match.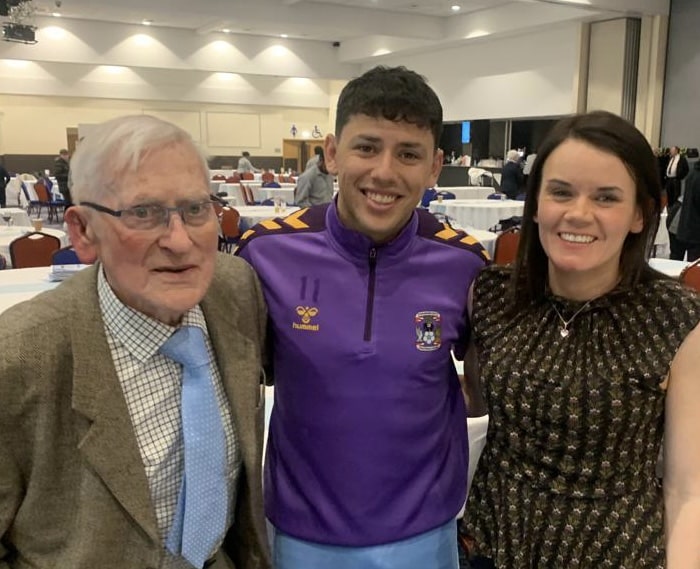 An Unforgettable Experience
Reflecting on the day, Mac expressed his gratitude, stating, "It was a wonderful day, and I have to thank XL Motors and Marie for giving me an unforgettable experience. What a way to see a football match, it was magical." His words resonated with the hearts of those present, as his joy and appreciation were palpable.
Inspired Villages and Austin Heath
Austin Heath Retirement Village, managed by Inspired Villages, embodies a philosophy where age matters less, and active engagement is the key to a fulfilling life. The dedicated Wellbeing Navigator, Marie Edmunds, exemplified this ethos by ensuring that residents like Mac could continue pursuing their passions and interests. At Austin Heath, residents enjoy an array of social and fitness activities, fostering an environment where wellbeing is prioritized, and residents can flourish.
Conclusion
Mac M. Muckley's once-in-a-lifetime experience at Coventry City Football Club exemplifies the power of kindness, dedication, and community. Thanks to the generosity of XL Motors and the thoughtful efforts of Marie Edmunds, Mac's unwavering support for his beloved team was rewarded with a day he will cherish forever. The heartwarming tale of this 94-year-old superfan reminds us all that the love for sports and the spirit of togetherness can transcend time, age, and generations.
Join our mailing list
Want to find out more?
We run events at our Inspired Villages all year around. Join our mailing list to get all of the updates on our future events.